10 Great Adam Yauch Musical Moments
The Beastie Boys rapper and bassist would have turned 53 on August 5th.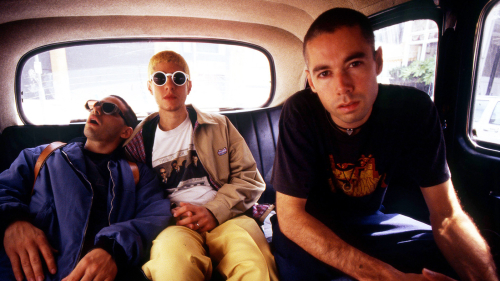 The Beastie Boys in 1993.
Martyn Goodacre/Getty Images
Adam "MCA" Yauch was the oldest member of the Beastie Boys and, in many ways, both the creative and spiritual center of the group. As they pivoted from the bratty white rap trio that gave hip-hop its first Number One album, 1986's Licensed to Ill, to the socially conscious, genre-bending group that championed the Free Tibet Movement, it was Yauch – a practicing Buddhist and vegan – who was most vocal in leading the charge. He played bass both in the Beasties' early incarnation as a hardcore punk band and in its later funky instrumental explorations, and directed many of the band's eye-popping videos under the alias Nathaniel Hornblower. When cancer took Yauch's life in 2012, his bandmates Mike Diamond and Adam Horovitz closed the book on the Beastie Boys story.
This year, Yauch would have turned 53 on August 5th – which is also the anniversary of the band's first show as the Beastie Boys in 1981, a house party for Yauch's 17th birthday. Here are 10 of his most inspired moments in the group's catalog.
Paul Revere (1986)
The Beasties eventually shied away from some of their early material which was often immature and misogynistic. But "Paul Revere," a wild and freaky origin story off Licensed to Ill, remained a staple of their repertoire until Yauch's final show at Bonnaroo in 2009. MCA's verse, one of several he tossed back and forth between him and his two bandmates, was as much an introduction to his gravelly voice and funky flow as his outsized persona. "Now, my name is MCA, I've got a license to kill/I think you know what time it is, it's time to get ill." "Yauch was coming from this other place, this gruff thing," Michael Diamond told Rolling Stone. "When we were 19 or 20, he sounded like a gruff 40-year-old. He was kind of the Bobby Womack of rap."
A beat made partially from a bouncing ping-pong ball, this mellow head-nodder finds Adam Yauch in the menacing mode he had adopted in the Beasties' early rap records – taking a Mother Goose rhyme like "Roses are red/The sky is blue" and winding it up by boasting about pressing a gun barrel to your neck. Yauch – once an avid gun nut – however, would soon denounce violence. The line about chillin' like Bob Dylan wasn't just made for rhyme's sake. "'Chillin' with Bob Dylan?' Yeah, we were," producer Mario Caldato, Jr. told Rolling Stone. "We went to a Christmas party Dolly Parton had at her house. There were all these celebs, and there was Bob Dylan! We were like, 'Fuck, let's spark a joint. So we sparked a joint with Bob!'"
B-Boy Bouillabaisse – d. A Year and a Day (1989)
Nestled in the heart of the 12-minute "B-Boy Bouillabaisse," this deliriously funky Paul's Boutiquedeep cut doubles as an Adam Yauch solo joint. Fearlessly speeding up the famous "When the Levee Breaks" break and chopping up the searing guitar solo from the Isleys' "Who's That Lady," Yauch rhymes: "I see myself as clear as day/And I'm going to the limits of my ultimate destiny," revealing a budding philosophical edge that would soon inform the rest of his rhymes. "When we were in Los Angeles, doing Paul's Boutique, [MCA] got this crazy apartment in Koreatown and he made 'A Year and a Day,'" Ad-Rock told Rolling Stone in 2012. "What happened to the three of us together and all that crap? But I heard that track, and it was some heavy shit. He rapped his ass off. Adam bought a jet pilot's helmet, rigged it with a microphone and recorded the song wearing that helmet."

"Pass the Mic" was the first single to be released off 1992's Check Your Head. It was also the most clear indication that for all his previously embodying the raucous party-boy in the group's early days, Yauch now felt hip-hop was principally a vehicle for self-expression and unburdening oneself. He raps: "If you can feel what I'm feeling then it's a musical masterpiece/If you can hear what I'm dealing with then that's cool at least/What's running through my mind comes through in my walk/True feelings are shown from the way that I talk." Around the time of recording the song, Yauch had returned from a trip to India and began seeing a holistic healer named Quentin Rodemeyer who helped him quit drugs and alcohol and tap into his spiritual self. "He was just ready to make some changes," Rodemeyer told Rolling Stone, "and he jumped into it with this courage and this strength and dedication to changing his life. I think it was a feeling inside of him that there was a need to grow past where he was."
MCA's voice stood out among the other Beastie Boys, booming and hoarse. And the contrast between their voices was often used to great effect on songs like "So What'cha Want," where the mic gets passed every four bars. The third verse reaches its climax when Mike D passes the mic one more time to MCA, who gets hyper and breathless with an epic burst of trash talk: "If you're hot to trot, you think you're slicker than grease/I've got news for you crews, you'll be sucking like a leech."
The blissed-out closer for Check Your Head, this smoked-out, space-y dub-jazz joint features MCA delivering lines like a Beat poet rather than streetwise New York MC. Opening with an allusion to Taoist philosopher Chuang Tzu and his thoughts on the nature of reality, Yauch muses about butterflies and says things like, "I feel this reality gently fade away/Riding on a thought to see where it's from." The Tibetan mindset that briefly peeked through on his lines on Paul's Boutique bursts into full bloom here and would continue to inform his and the band's mindset. From organizing concerts for a Free Tibet to fighting violence and misogyny, Yauch took a wider view of his own celebrity and of life on this earth.
Perhaps Adam Yauch's finest moment as a bass guitarist in the Beasties' rock trio configuration, "Sabotage" careens around his big greasy riff. "Yauch came in one day with this idea for a song where the fuzz bass keeps playing and we would do all these hits and stops to bring like suspense and drama," Adam Horovitz recalled in the liner notes to 1999's Beastie Boys Anthology: The Sounds of Science. The hard rocking track was a favorite of Chris, a person Horovitz says ran Tin Pan Alley Studios. His reaction to the song inspired its working title and motivated the band to add vocals to the jam. "We didn't know what to do with it, so we called it 'Chris Rock,' and for like a year it was just an instrumental."
"Sure Shot" was the freewheeling flow clinic that opens 1994's Ill Communication. MCA, then 29, let on a few signs that older, wiser Beastie Boys had arrived. At one point, he pokes fun at his own gray hair, and later he clears the air with an explicitly feminist stanza: "I want to say a little something that's long overdue/The disrespect to women has got to be through/To all the mothers and sisters and wives and friends/I wanna offer my love and respect to the end." It was a striking contrast from the Beasties' lewd lyrics of the Eighties, a deliberate one.
"There was a time when we would joke around and say things that were disrespectful of women and think that was funny, or that it wouldn't hurt anybody, or that it would be taken with a grain of salt," Yauch said in 1997 to Tricycle. "Then it became clear that that wasn't the case, and we had to go through the process of taking a step back and realizing how those things affect other people."
Although Beastie Boys' later records featured a wealth of mellower instrumental moments, it was rare to hear any member of the trio lower their voice below a shout. 1998's Hello Nasty, however, offered a surprisingly hushed turn from Adam Yauch, who sang the bossa nova ballad "I Don't Know" with backing harmonies from Cibo Matto's Miho Hatori.
An Open Letter to NYC
(2004)
He spent nearly 20 of his final years living in Los Angeles, but New York City played a profound role in Yauch's musical education. After switching from a private Brooklyn high school to a more experimental one in Manhattan, a then-teenage Yauch dove headfirst into the hardcore punk scene and rowdy nights at Rock Lounge and Danceteria. It was also where he and Diamond first saw Black Flag perform a formative show at the Peppermint Lounge. On 2004's To the 5 Boroughs, the rapper opened up about his affection for his native city, alluding to the 9/11 terrorist attacks.
▲ by ichiro_ishikawa | 2019-05-05 11:33 | 音楽 | Comments(0)